Click on each tab to learn more about help and resources available!
Domestic Violence Awareness and Prevention  
Intro Post:
Domestic violence impacts every community. Help is available.
National Domestic Violence Hotline 1-800-799-SAFE (7233) If you are unable to speak safely, you can log onto thehotline.org or text LOVEIS to 22522.
In Marshfield, PDC Orenda Center provides comprehensive advocacy and support for individuals impacted by domestic/dating violence/abuse and sexual assault. Services include crisis intervention, emergency shelter, medical advocacy, compassionate support, legal advocacy, educational resources, and referral services. All services are free of charge.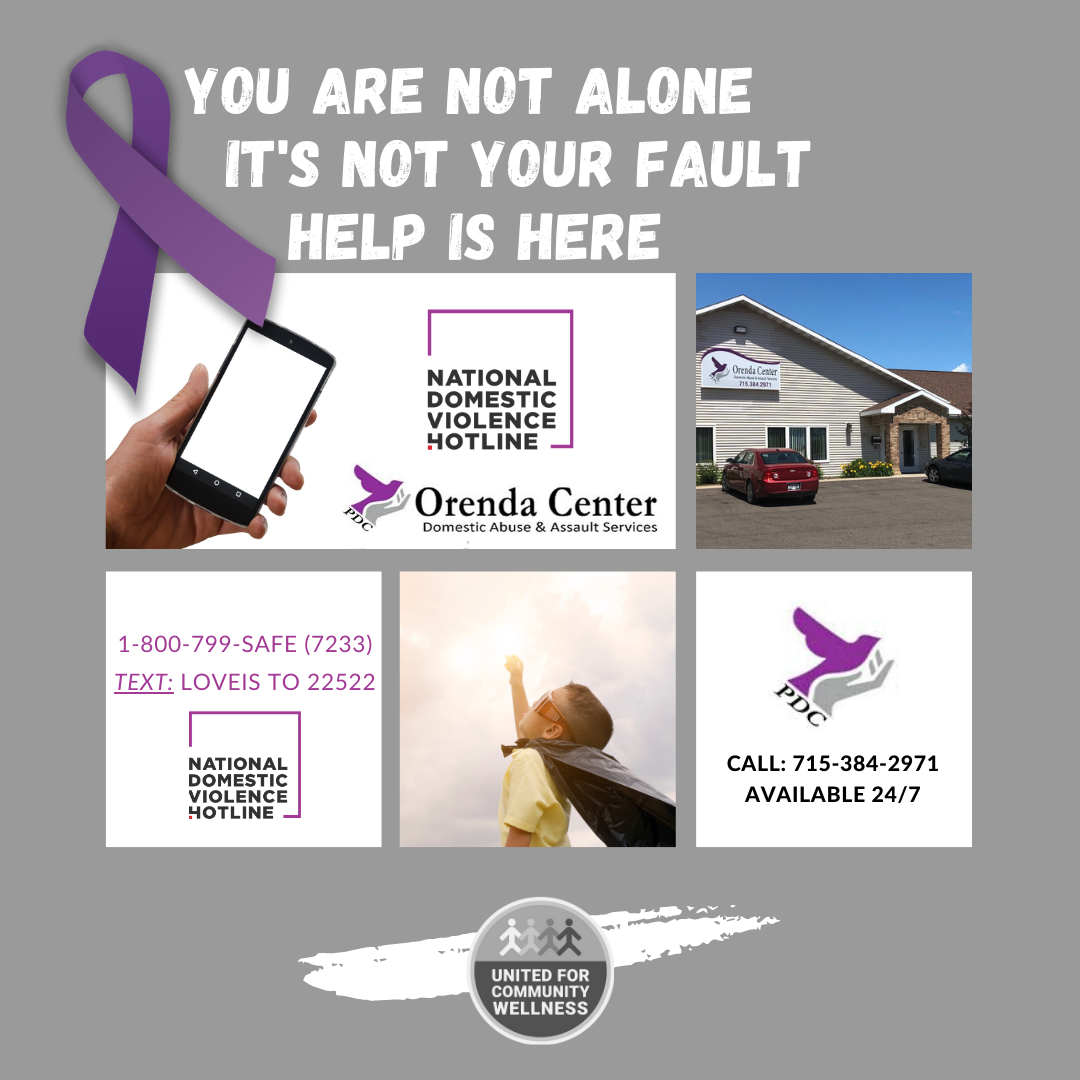 Video:
https://fb.watch/2oCMMUYFIP/ 
Website/Article/Email:
SIGNS YOU ARE EXPERIENCING ABUSE
​Your partner threatens or tries to control you
This can be anything from making you feel inadequate to telling you what to wear or how to look.
​You partner controls your money
Keeping cash or credit cards away from you or discouraging you from working is unacceptable.
​Your partner isolates you
Cutting you off from family and friends makes you even more dependent on your partner and could be a sign of abuse.​
​Your partner physically abuses you
This is a serious crime regardless of your relationship status.
https://nationaltoday.com/national-domestic-violence-awareness-month/
PDC Orenda Center Services
Personal Development Center (PDC) is a private, non-profit victim services agency providing case management, advocacy, and prevention education to individuals and families in the North Wood County and Clark County area.
PDC is dedicated to the safety and empowerment of those impacted by domestic abuse and sexual assault.
Our mission is to assist those in distress by identifying options and resources, promoting safety, building hope, and strengthening individuals, families, and our community through case management, advocacy, and education
Creating Safety Plans - Creating a safety plan is a vital step when one is considering leaving an abusive partner.
This plan can help a survivor strategize what they will do to stay safe – and keep their children and pets safe – in the midst of abuse, be it to escape temporarily during an incident of violence or when they're ready to leave their abuser for good. 
Why is a safety plan important?

Leaving an abusive partner is notoriously the most dangerous time for a survivor. 
If an abuser feels they are losing power over their victim, they can become increasingly more controlling, threatening, violent or may even turn fatal.

Here at PDC, we helped create 978 safety plans in 2019.
Supervised visitation and exchange services - so noncustodial parents can have time with their children. 
The visits are monitored by the coordinators and take place at PDC.
The Safe Exchange program provides a safe pickup/drop off point for parents to exchange their children for periods of placement. Our families are usually court ordered to use our program.
Before starting services, families must schedule an appointment to complete the intake/orientation process.
PDC provided 336 supervised visits and 714 safe exchanges in 2019.
Youth Services
PDC provides 1:1 advocacy to children and teens,
Youth Advocates act as an additional support within the schools in our service area. 
PDC provides services for youth who are victims of any type of abuse, experience unhealthy dating relationships, have experienced sexual assault, or live in a home where any of these things occur.
PDC provides prevention education to students of all ages.

Healthy Relationships, Sexual Assault, Safe Touch & Establishing Safe Adults, Keeping Yourself Safe, Safety After High School.
PDC also provides individual education on any of these topics. 

PDC's Youth Advocates provided 3,000+ youth with prevention education presentations in 2019. 
The Lethality Assessment Program (LAP) - an evidence-based lethality assessment instrument based on the research of Dr. Jacquelyn Campbell. LAP assists law enforcement and other community professionals to identify victims of intimate partner violence who are in high danger of being killed by their intimate partners.
Once identified, the high-danger victim is immediately connected by hotline call to a crisis advocate at our agency for emergency safety planning, emergency shelter and follow-up advocacy if they so choose.
LAP is an important tool, used as a part of a collaborative community effort, to objectively assess domestic-violence-related situations and make vital connections for victims/survivors with community organizations that are here to help. 
In 2019, there were 60 LAP calls connected with crisis advocacy.
Adult Advocacy - A plan is developed for each individual on a case by case basis.
Advocacy for adults includes helping individuals understand and identify violence & sexual assault/abuse in relationships.

Often victims do not recognize certain behaviors as abusive because they have been exposed to it for such a long time, which could have started in childhood.

If necessary, we explore legal options to help increase safety, which could include assistance with filing paperwork for temporary restraining orders. 
Education and skill building are also options covered under adult advocacy services. 
Advocates can provide information regarding budgeting, interviewing skills, successful careers, coping skills, self-care, and higher education.
Women In Search of Empowerment (WISE) is a support group held by an advocate at PDC and we also have held support groups in Clark County Jail for inmates who are victims. 
Advocates also work closely with community partners to provide other resources and referrals for AODA/Substance Abuse, housing options, food & clothing assistance, financial assistance, and others as needed.
Other Support Services
PDC provides advocacy during Sexual Assault Nurse Examinations.

This incredibly vulnerable time in a victim's life is confusing, terrifying, and often revictimizing.
Advocates are always on call to respond when a victim reports to the Emergency Room for a SANE. 
We provide emotional support and companionship throughout the entire exam if a victim wishes.
PDC advocates and volunteers responded to 29 SANE exams in 2019.

PDC support at the Child Advocacy Center (CAC) at the Marshfield Clinic –

The CAC takes a Multidisciplinary approach to best serve the community.
This approach makes the CAC a "one stop shop" and helps in the investigation process.
This partnership plays a huge role in providing the best support for children and their families.

At the CAC children can receive a medical exam by a Child Abuse & Neglect Pediatrician along with a forensic interview by a trained forensic interviewer.
During the appointment at the CAC advocates provide one on one support during the duration of the time spent there. They provide resources, answer any questions, and keep the children and families' company.
PDC advocates responded to 98 cases at the CAC in 2019.            
Emergency Shelter
PDC-Orenda Center is also an emergency shelter for victims who may not have anywhere to go when escaping a violent home. 
Shelter advocates are always on site and ready to help our residents in anyway they may need. 
There are individual living quarters and a shared kitchen, large living room, computer space and child's play area.
Food is provided for residents to prepare and have meals as they wish. 
PDC also has a secure leisure area outside of the building including a large playset for children in shelter.  
If you or anyone you know might need services, has questions about PDC services or are interested in volunteering please do not hesitate to call. Our phone is staffed 24/7 and advocates are ready to help.
PDC-Orenda Center
715-384-2971
505 E. Depot Street
Marshfield, WI 54449
​ 
Hope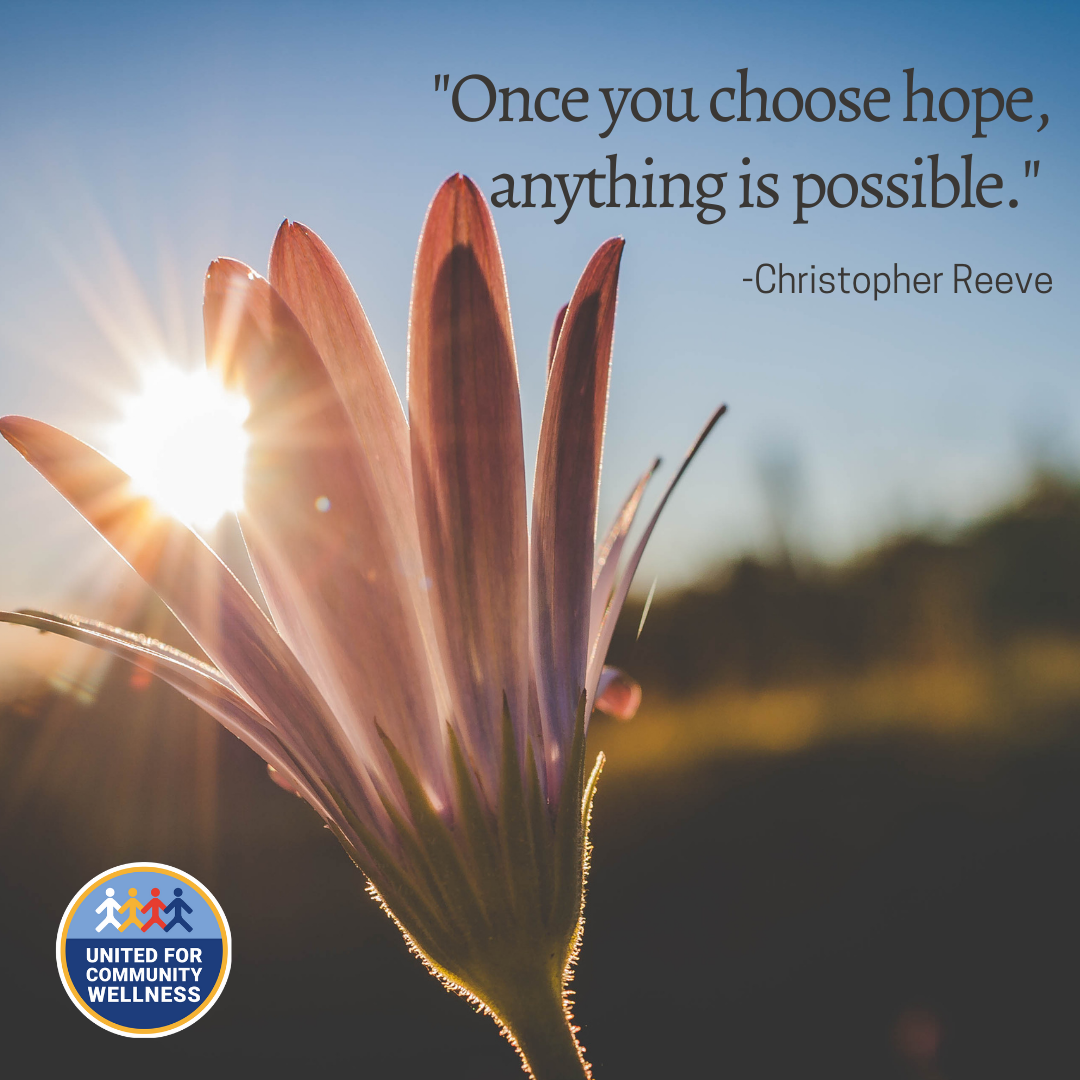 7 Benefits of Having Hope  (from Positive Psychology:  "What is Hope in Psychology + 7 Exercises and Worksheets")
Individuals who are more hopeful and expect to be successful are more likely to experience a state of well-being. 
Individuals with high hope are more likely to view stressful situations as challenging rather than threatening.
Hope can be a protective factor against the development of chronic anxiety. 
Hope helps motivation and taking action.
Hope is positively related to overall life satisfaction.
Hope helps people to maintain their positive involvement in life regardless of challenges.
Hope is significantly correlated with superior academic and athletic performance, greater physical and psychological well-being, improved self-esteem, and enhanced interpersonal relationships.
7 Ways to Build Hope (from Psychology Today "Finding Hope" Karyn Hall)
Find a clear path – look to the future – one day ahead, one week, one month, one year… what is one small step to get where you want to go?
Look for role models – who inspires you?  Who do you look up to?  Who supports you?  Consider what you can learn from them.
Do what you know you can do. – Sometimes just finding things you know you can do can move you from powerlessness to a sense of hope.  Make your bed, cook dinner, talk to a friend.  Take a step you can take.
Perform an act of kindness.  Doing for others can have a dramatic impact on your mood and sense of well-being.
Practice mindfulness.  Be present in your current life.
Find your silver linings and things for which you are grateful.  What are the positives in your life?  What makes you smile?
Connect with others.  Connections are a vital part of your mental wellness.  Even in these difficult times, find a way to talk with others and build relationships.
Video:
Mental Health Screenings  
 
Intro Post:
Mental illness is more common than you think. One in five Americans live with a mental health condition. Nearly one in seven U.S. kids and teens has a mental health condition. Only half will seek treatment (NIMH). Let's work together to change this!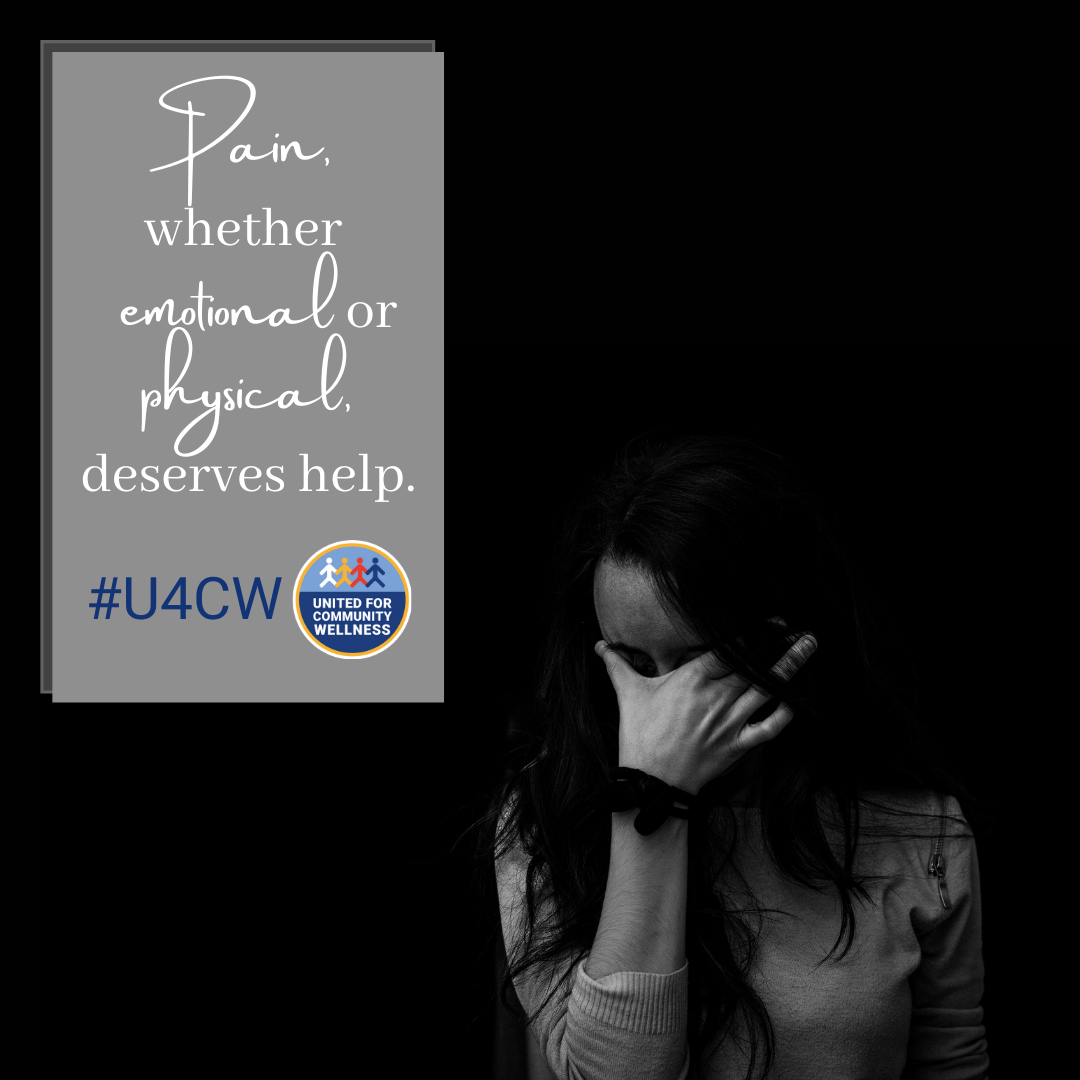 Video:
Get Connected. Get Help.
https://www.facebook.com/watch/?v=604756110084650
Action Post:
We all struggle at times. Let's commit to being kind to each other.
There are many helpful suggestions from a great website, Bring Change 2 Mind, to help decrease mental health stigma. This website offers a chance to send someone you care about a thoughtful card or text when you aren't sure what to say. Check it out: https://bringchange2mind.org/learn?gclid=EAIaIQobChMI9dSCyaDs5AIVwZJbCh0-pAj_EAAYASAAEgLV-_D_BwE
It is a challenge to cope with the emotional, physical, and mental effects of the pandemic.  Knowing people care goes a long way to lessen the pain.
Send 3 thoughtful digital cards to people you are care about.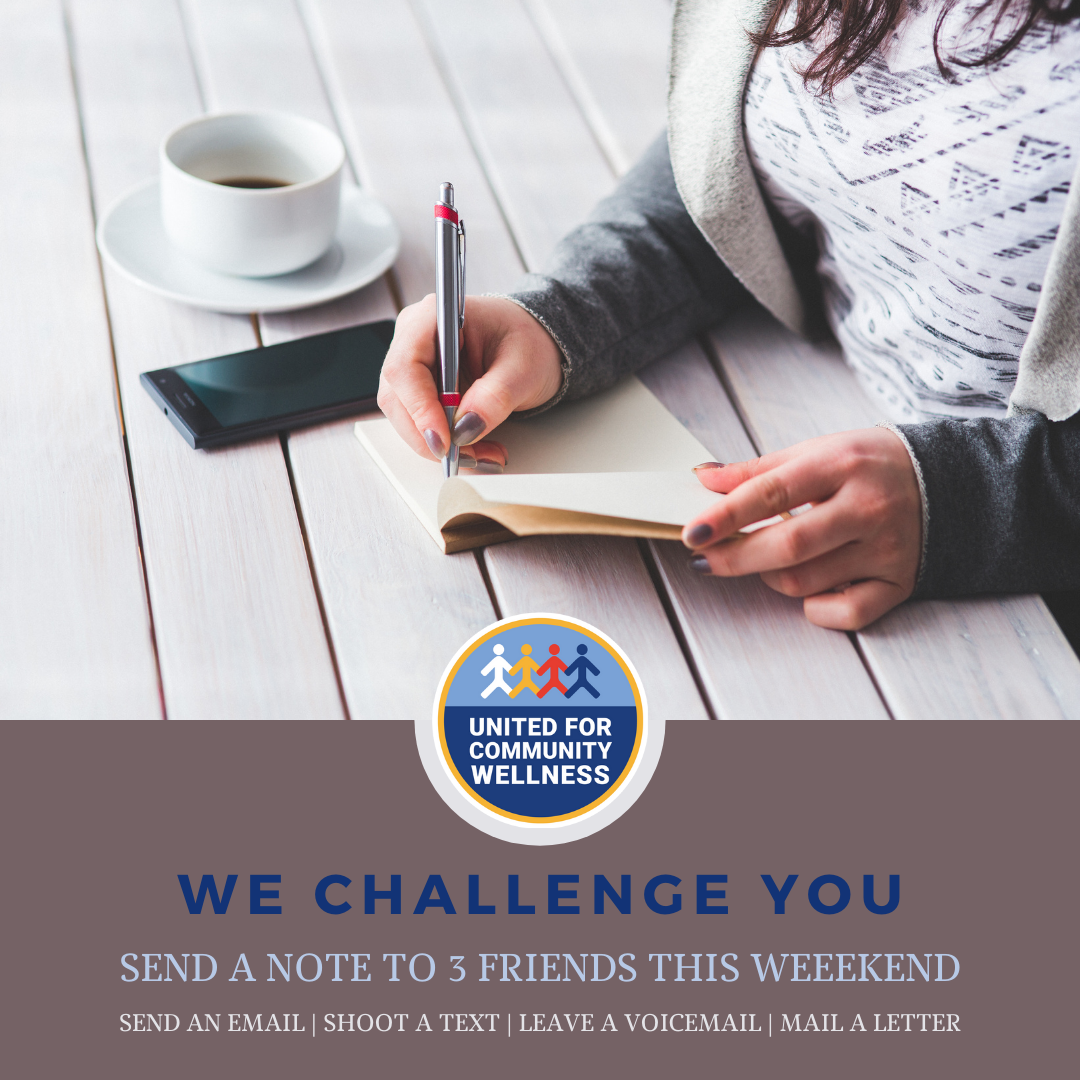 Website/Email/Article:
Do you ever wonder if it is the blues or depression, anxiety, or real fear?  The pandemic is causing significant emotional, physical, and mental effects.  How do you know when it is time to seek help?
What is mental health?
Mental health includes emotional, psychological, and social well-being. It affects how we think, feel and act; determine how we handle stress; relate to others; and make choices. Mental health is important at every stage of life.
If you experience mental health problems at any age your thinking, mood and behavior could be affected. Many factors contribute to mental health:

Biological factors, like genes or brain chemistry
Life experiences, like trauma or abuse
Family history of mental health issues

Mental health issues are common.   One in five Americans live with a mental health condition.
Help is available. People with mental health problems can get better and many recover.
                                                                -mentalheath.gov
Do you want to learn more?
Mental Health Myths and Facts https://www.mentalhealth.gov/basics/mental-health-myths-facts
Not sure if you or someone you know is living with mental health problems?
Mental Health America offers mental health screening tools online. 
Resiliency  
Identify strengths and how you use them/how they are helpful for you
Promote positive problem solving and the idea that problems can be solved
Look to the past – when have you coped well? – write it down
Practice positive self- talk (I can handle this…)
Build positive routines and self-care
Identify and practice positive coping strategies to help you in difficult times
Acknowledge your achievements
Keep track of the good things in your life – consider a gratitude journal or list
Remember feelings change – bad feelings do not need to last
Accept responsibility for your actions and for changing your behavior if needed
Create positive relationships and connections
Keep things in perspective – how big is the problem? Is it only a part of your life?
Normalize set-backs – everyone has difficulties in life sometimes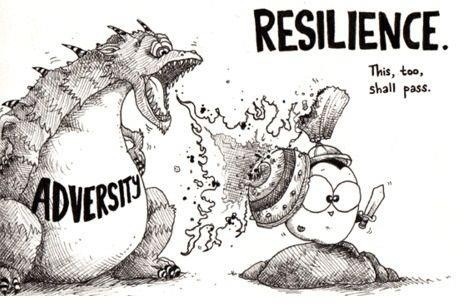 Video:
Action Post:
Some time in the next week, make a list of your strengths.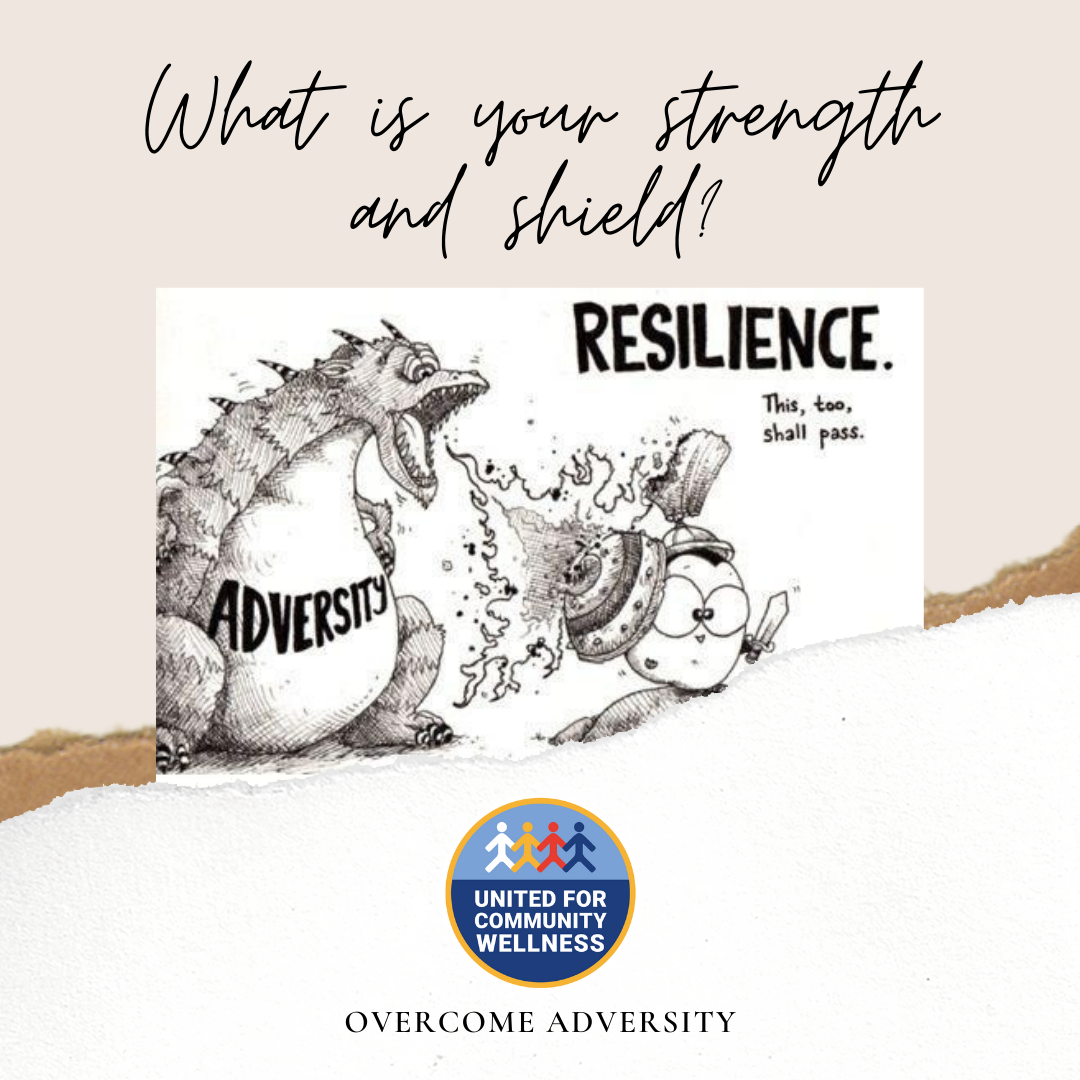 Suicide Prevention
Intro Post:
September is suicide prevention month. 
Every day, approximately 123 Americans die by suicide.
Seeking Help is a sign of strength. 
If you are concerned about yourself or a loved one – please reach out for help.
The National Suicide Prevention Lifeline offers free, confidential help 24-hours a day.
1-800-273-TALK (8255)
www.suicidepreventionlifeline.org
REMEMBER YOU ARE NOT ALONE!!!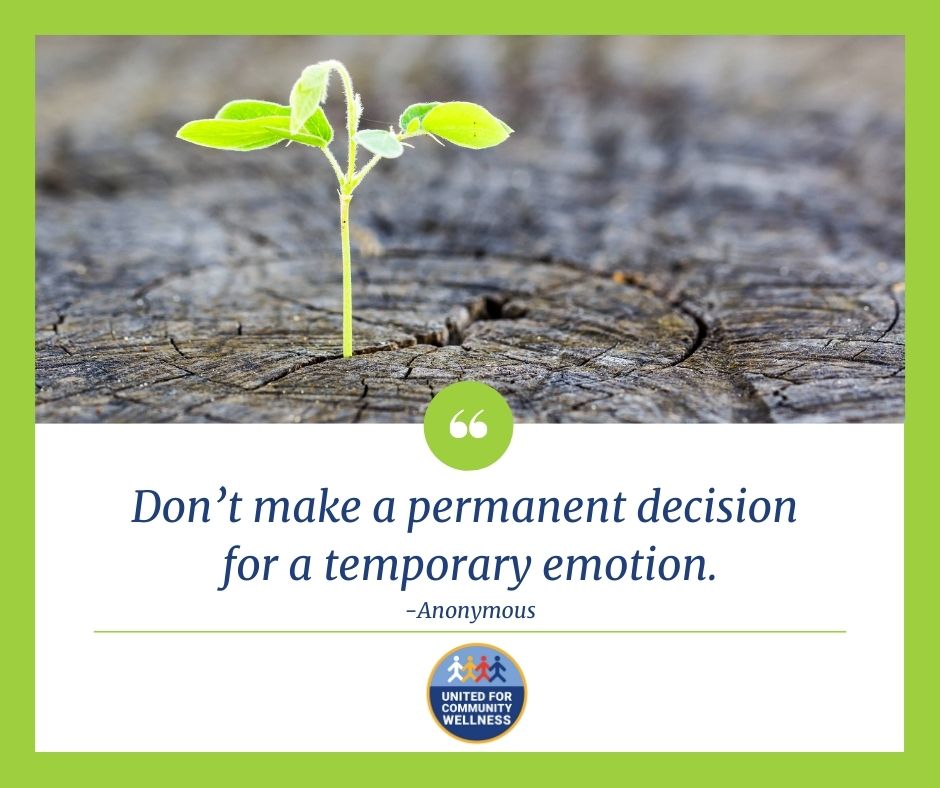 Video:
Always Tell Someone: Krista's True Story of Help & Hope for Teen Suicide Prevention https://youtu.be/cOCMsgoM6To
Action Post:
Share Social Media Post 5 Times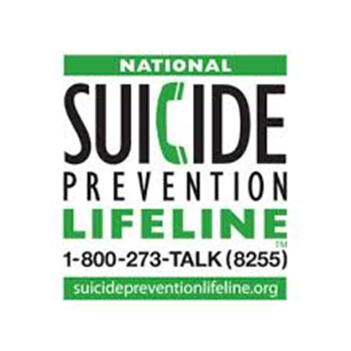 September is suicide prevention month. In the US, one suicide death occurs every 12 minutes (CDC). Isolation and anxiety over the coronavirus pandemic are taking a toll on Americans. If you are a loved one are in crisis call the National Suicide Prevention Lifeline (Lifeline) at 1-800-273-TALK (8255), or text the Crisis Text Line (text HOPELINE to 741741). Both services are free and available 24 hours a day, seven days a week.
Website/Article/Email:
September is suicide prevention month.  Tragically, there is one death by suicide in the US every 12 minutes (CDC). Let's work together to change this.
LEARN THE WARNING SIGNS OF SUICIDE
The following are some of the warning signs you might notice in yourself or a friend that may be reason for concern:
Talking about wanting to die or wanting to kill oneself
Making a plan or looking for a way to kill oneself, such as searching online
Buying a gun, or stockpiling pills
Feeling empty, hopeless, or feeling like there is no reason to live
Feeling trapped or in unbearable pain
Talking about being a burden to others
Increasing the use of alcohol or drugs
Acting anxious or agitated; behaving recklessly
Sleeping too little or too much
Withdrawing from family or friends or feeling isolated
Showing rage or talking about seeking revenge
Displaying extreme mood swings
Saying good-bye to loved ones, putting affairs in order.

National Institute of Mental Health
What can I do for myself or someone else that is suicidal?
Immediate action is very important.  If you or a loved one is in imminent danger call 911.
Seeking help is a sign of strength; if you are concerned, get the professional help you deserve.  Remember you are not alone!
Don't make a permanent decision for a temporary emotion.  Anonymous
ACCESS RESOURCES:
There are multiple crisis lifelines and we've made it easy for you to reach out to one that best fits your needs.  All calls are free and confidential, available 24 hours a day seven days a week.
National Suicide Prevention Lifeline: 1-800-273-TALK (8255), confidential help 24-hours-a-day. You also can visit the Lifeline's website at www.suicidepreventionlifeline.org
Crisis Text Line: text HOPELINE to 741-741
Trevor Project Life Line LGBTQ 25 years and younger: 1-866-488-7386
Veterans Crisis Line: 1-800-273-8255, press 1
Wisconsin County Crisis Lines https://www.preventsuicidewi.org/county-crisis-lines
To lean more visit https://www.nimh.nih.gov/health/topics/suicide-prevention/index.shtml
Supporting Others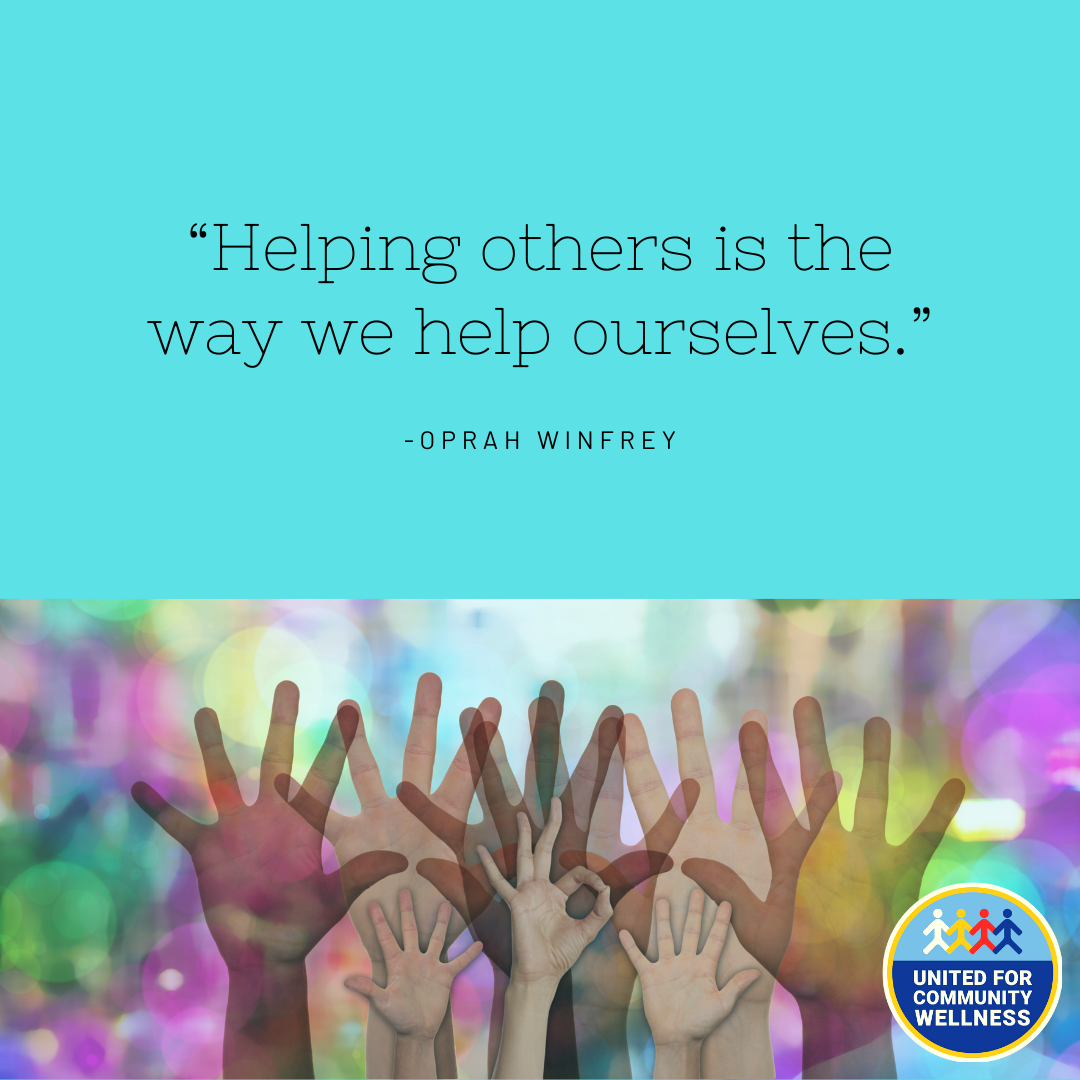 "Helping others is the way we help ourselves."
-Oprah Winfrey
Helping others with their mental health not only is it important to reach out to others as they struggle with their mental health, doing so has a positive impact on our own mental well-being. Here are some ways to help others who are struggling with their feelings.
Find ways to connect 
It's okay to start slowly – try small actions and support
Do regular check ins
Listen
Don't be afraid to talk about feelings
Don't judge or criticize - validate feelings
Don't compare (tell them about when you had a harder situation)
Ask what you can do to help
Keep your word  – follow through on promised actions
Offer to just be with them
Encourage them to take care of their body (sleeping, eating, hydrating, moving)
Encourage them to keep a schedule/routine
Provide information if needed
Explore their other supports
Identify mood boosting activities
Know when more serious help is needed
Persuade them to get more serious help if needed – you may even need to help call
Time Management 
Intro Posts:
"The bad news is time flies. The good news is you're the pilot." -- Michael Altshuler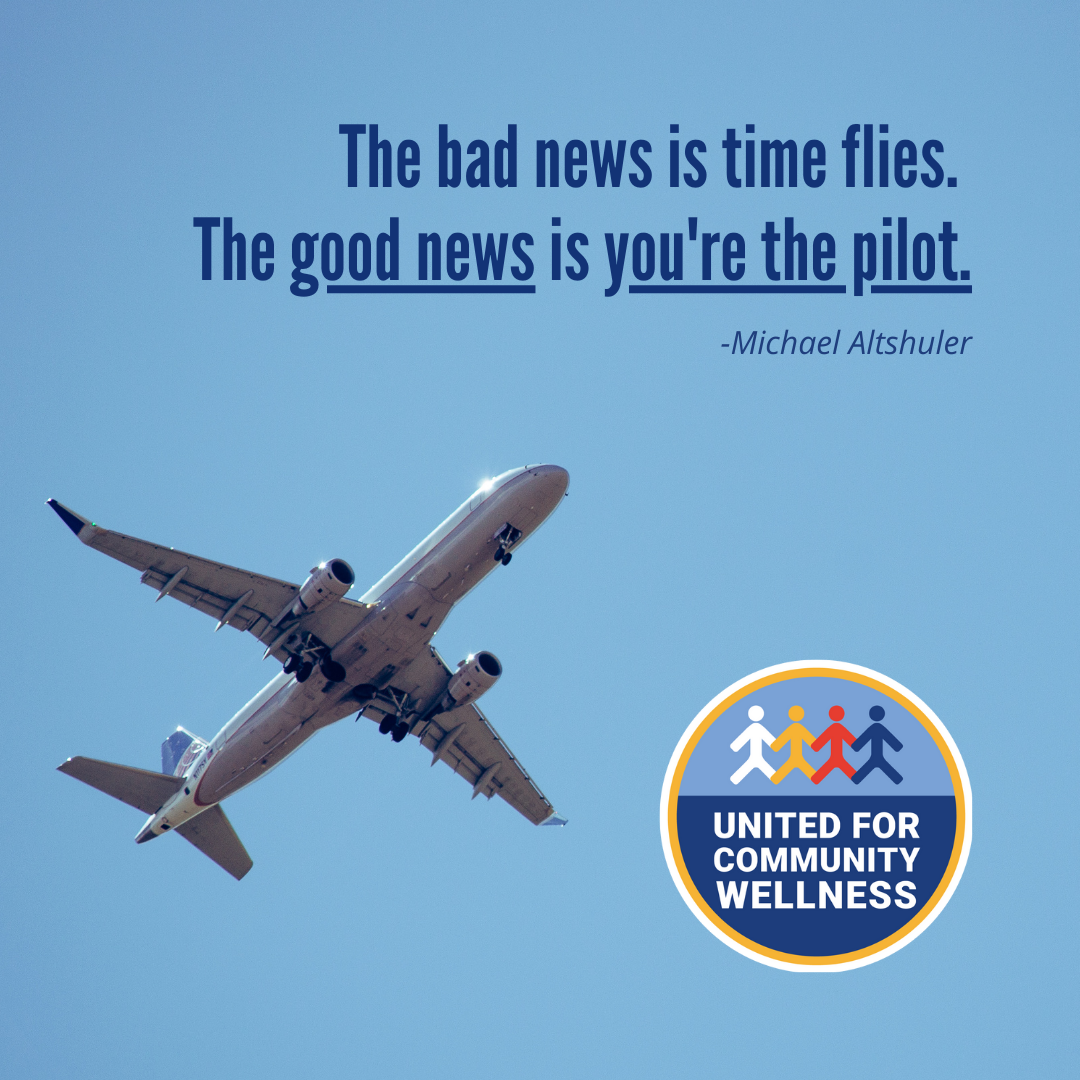 8 tips for managing your time…
•             Prioritize
•             Schedule
•             Organize
•             Use lists
•             Take breaks
•             Delegate
•             Set limits
•             Be flexible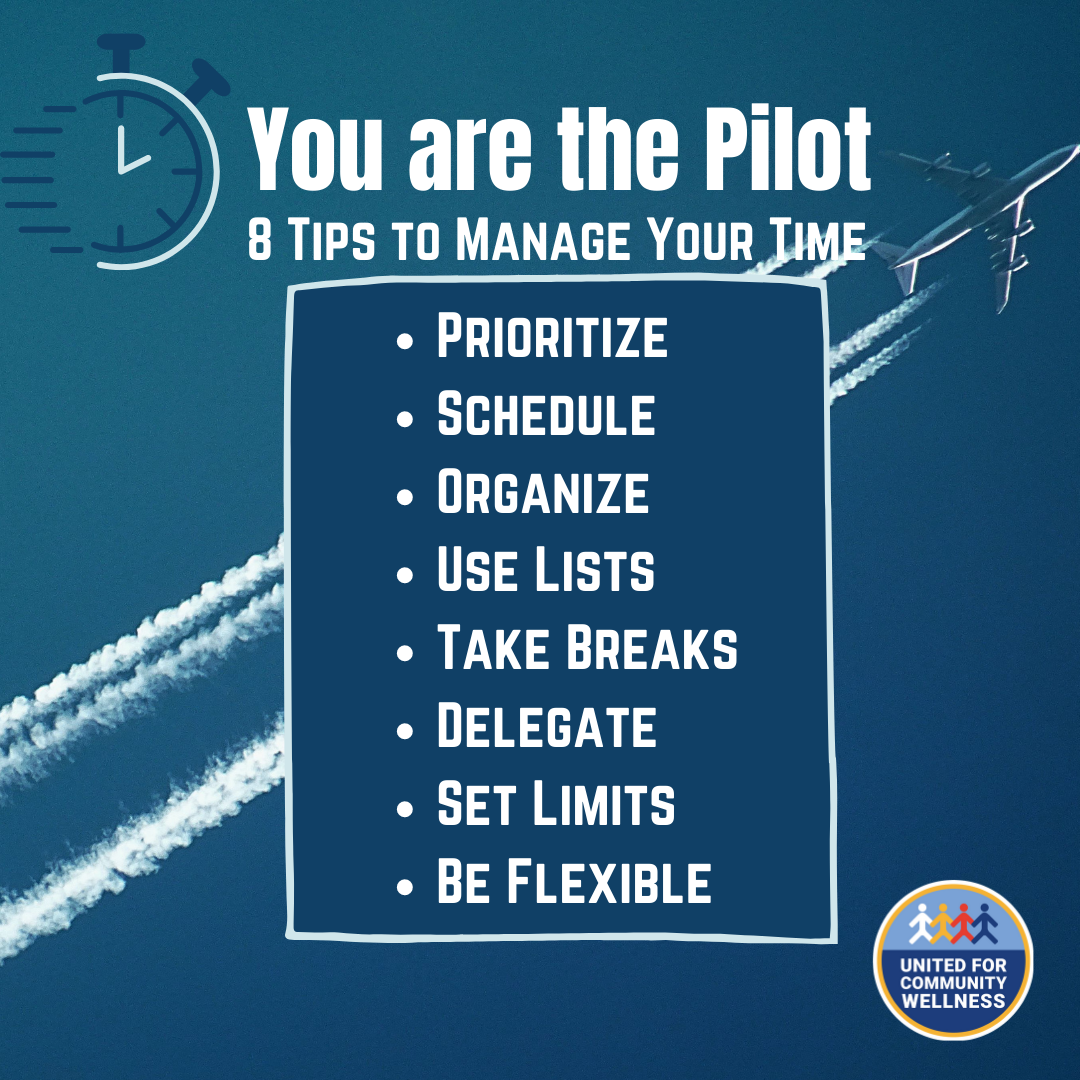 Video:
Stop procrastinating - Solving the procrastination puzzle - Timothy Pychyl https://www.youtube.com/watch?v=3kcWpC9UQzE 
Action Post:
Make one list with 5 small things you want to get done today…then check them off as you complete them.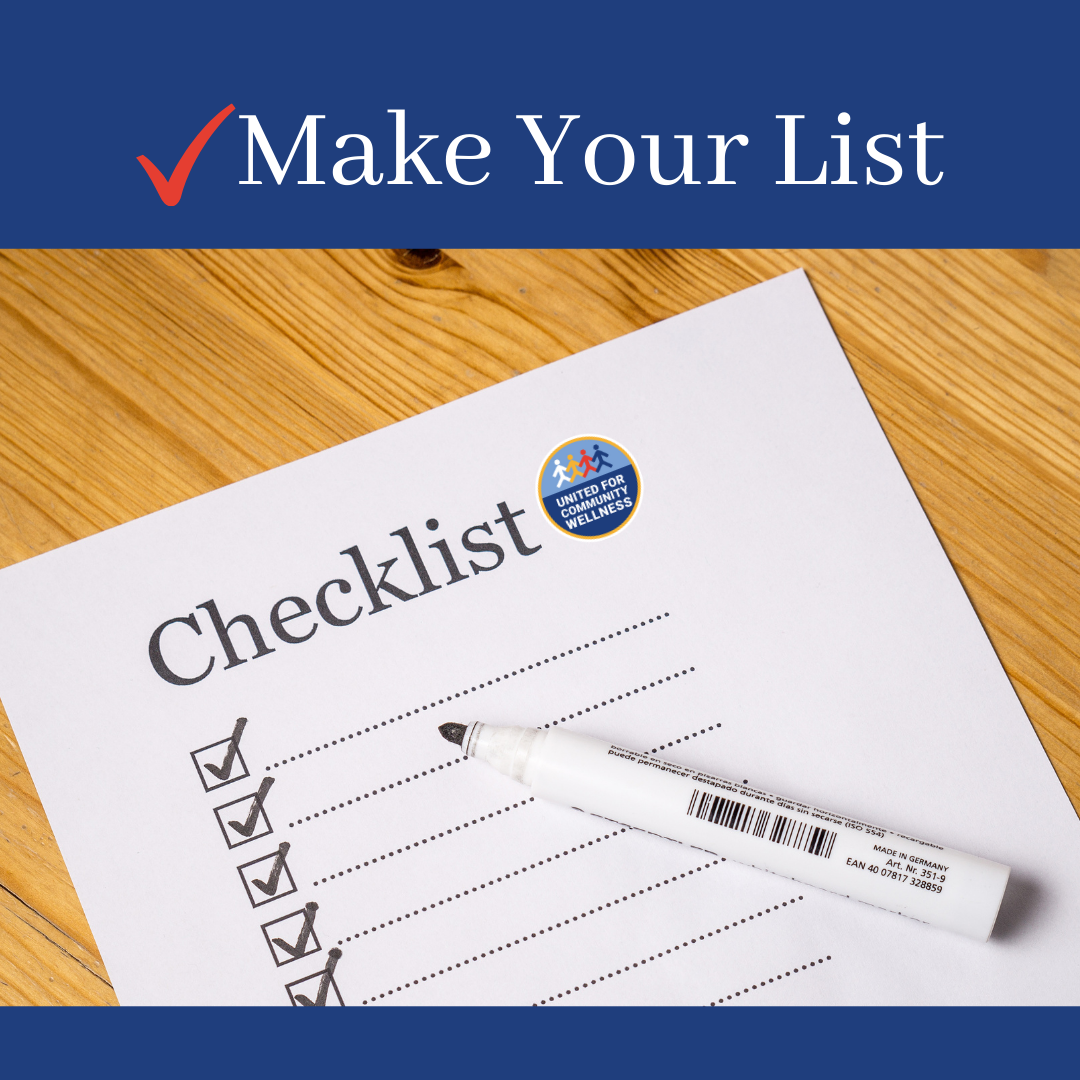 Website/Email/Article:
Time Management Skills for better Mental Health
Many people are busy and overwhelmed right now.  Structure, routine, predictability, productivity, and purpose are important in maintaining mental wellness.    Below are some ways to manage your time and life.
Prioritize - It is impossible to do all the tasks expected of you at one time. Prioritize so you can complete critical tasks. 
Consider time deadlines, length of a task, how important it is to others and what will happen if it is not done.  
Directly tie priorities to your goals, so goal setting,  big picture and day to day is important.  
Make sure goals are manageable!
Create a Schedule - Scheduling helps you set structure to your day.  
Pay attention to the times that work best for you to complete tasks (when there are fewer disruptions or when you have the highest energy).  
Schedules can be a good way to reduce procrastination and keep on track.  
Use a calendar to do longer term planning.
Organize
Keeping your space clean and orderly allows for more efficient work and increased productivity.  
Clutter in your space can create clutter and distraction in your brain.
Use a "to-do" list - To-do lists help us remember important tasks.  
Trying to keep track of everything in your head is exhausting and anxiety producing.  Writing tasks down can alleviate stress.  
Remember to not make your to-do lists too overwhelming – go back to prioritizing or splitting things into smaller steps.
The added benefit of making lists is crossing off completed tasks.  
Rest/Take breaks - It is important to pace yourself.   Take time to rest and reset.
If you work to exhaustion you will not be productive.   
Take regular breaks and set a sensible quitting time.  
Sometimes resting from responsibilities means movement, resting your brain, not your body.  
Practicing good self-care will help you to be less stressed and more productive.
Delegate - Are there tasks that others can do or help with?  
Knowing what and when to delegate is a skill.  
Delegating or sharing duties can build teamwork and positive relationships – and that connectedness is good for your and others' mental health.
Set Limits
Limit setting may be learning to say "no" to certain requests or establishing boundaries on your time (not working past a certain time).  
Setting boundaries can also help you establish a good work-life balance and can keep you from overcommitting.
Be Flexible/Adaptable - Things do not always go as planned.  
It is important to adapt to new situations and expectations and to be flexible.  
Unexpected new situations come up and we need to adjust our schedules and expectations.
More Area Resources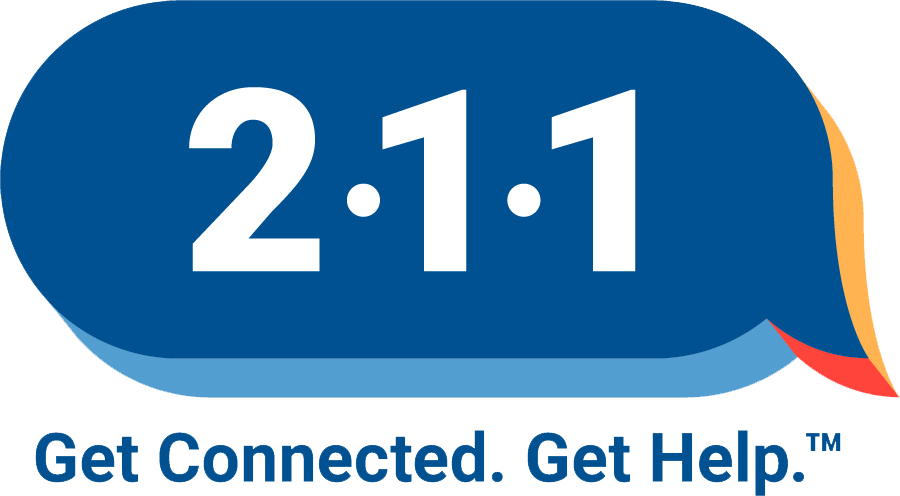 2-1-1 Resource Line (call or search online)
Wood County Safety and Wellbeing