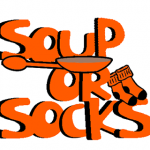 We always find it excited when we get someone new to SOS that requests help. This was the case when Edward came to SOS for help with food. Edward is a single father and trying to do the best he can on his income for his family. He expressed that he thought he would not qualify for any help. He does make a reasonable wage, but was struggling with the children going back to school.  
We were able to help him with food and clothing that day. He was also interested in the Nutrition on Weekends program, so we got him registered and signed up for that as well.
He was pleased with the help we offered him.  He shared with the volunteers that we had really given him some peace of mind and was very grateful that the process had been better than he imagined it would be.